Capsicum- How to grow from seed
(Just in case you are unaware, chilli's are just a hotter and spicier form of capsicum so they are all treated the same way.)
You wouldn't know it by looking at them but chillis and capsicums are close relatives of tomatoes. They have similar requirements, but tend to be a bit tougher so you should have a lot less trouble growing them at home. With hundreds of years of breeding there are literally thousands of capsicum varieties to choose from - small, large, sweet, hot and everything in between. If you are going to save any seeds from the fruits for planting next year, make sure you don't plant capsicums next to chilli plants or the resulting crossbred seeds from the mild flavoured capsicums will all be hot in your future plants.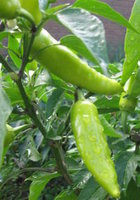 Before you Plant Your Seeds
Make sure you have a good place to grow your capsicums. They need a sunny place to grow with some air flow so they don't succumb to fungal diseases. If you don't have a lot of room you can plant them in large pots or along a wall as long as there is a breeze.
Sowing Your Seeds
Plant your seeds in pots so it is easy to transplant them into their final place when they are around 10-15cm tall. Your capsicum seeds will not germinate until the temperature of the soil is right. They prefer a temperature of around 20 to 25°C before they will break dormancy, and they must not be planted outside until all chance of frost is over.
If you want to start them a few weeks before the expected date of your last frost you can plant the seeds in pots and place them inside on a warm, sunny windowsill, or you can buy an electric seed starting tray at any garden or hardware store.
Start with a pot or tray of good seedling mix from your garden center (not ordinary garden soil from your backyard). Tickle the top of the soil with your fingers, then sprinkle your seeds over the top and add a little more soil to cover. Give them a little water, just enough to keep the soil damp, but not too wet.

While Your Capsicum seeds are Germinating
After you plant your seeds in pots and are waiting for them to come up you need to get their final planting place ready. Make sure their spot is well drained and has adequate sunlight. Dig in some rotted manure and a handful of blood and bone and pull up any weeds. Leave it now to settle until your seedlings are ready.

Planting Out
When your chilli or capsicum plants are around 10-15cm tall you can plant them outside in the position you have chosen. Be gentle with them so you don't damage the roots or break the stem/s. Give them a sprinkle of water with some very diluted liquid fertiliser in it. When they start to grow strongly you can start them on full strength fertiliser but not now while they are still settling in.
Cultivation
Capsicums and chillis are pretty easy to look after. Make sure you water them well once or twice a week during hot and dry weather and give them a boost of liquid fertiliser every three or four weeks. If you live in an area that gets very dry summers, it is a good idea to mulch around the plants with a thick layer of straw to hold moisture near the roots, but make sure it does not lie against the trunk.
It is a good idea to buy some tomato stakes and ties to hold the plants upright so they don't blow over in the wind.

Pests and diseases
There are a few pests and diseases of capsicums. Most bugs can either be picked off by hand or sprayed with a mixture of detergent and water. If your plants wilt and die unexpectedly and you are sure that they have received enough but not too much water, they might be infected with a serious wilting disease. These diseases stay in the soil for a long time so in the future you should either plant your capsicums in large pots or plant them in an area of your garden where no capsicums have been grown for many years.
The main pests that attack capsicums are aphids and whitefly. Aphids are little bugs that suck sap from the tips of the plant shoots and whitefly are tiny white bugs that fly around when you disturb your plants. Aphids can be controlled with pyrethrum spray or soapy water and whitefly can be caught on pieces of bright yellow card coated with a thin layer of petroleum jelly. They are both pests that can damage your capsicums and spread diseases.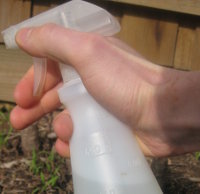 Harvest
The great thing about capsicums is that they bear right through the season until they are killed by frosts. You can harvest the capsicums and chillis at any stage when they are green, or wait till they turn their ripe colour, which is usually red or yellow, at which time they will have a stronger flavour. Most varieties can be picked a little unripe and will still fully ripen on a windowsill.

---
Related blog posts:
---
Author: Jennifer Charlotte Date Posted: 6 December 2017
Growing your own chilli from seed can present a challenge to inexperienced gardeners. Here is a complete guide to producing your first bumper crop.
---
Author: Bill Date Posted: 7 February 2017
There comes a time in many chilli enthusiasts' lives when they decide to grow their own peppers rather than rely on the varieties available in the stores. Often, this choice is accompanied by a desire to grow the hottest, most powerful chillies possible.
---
Recent blog posts:
---
Author: The Seed Collection Pty Ltd Date Posted: 1 April 2021
While your overall gardening activity might be slowing down as winter approaches, April is still an incredibly important month. The gardening hours you put in now will pay huge rewards over winter.
---
Date Posted: 31 March 2021
Sharpening secateurs, shears, knives, scissors, and many other gardening tools is straightforward using a specialised sharpener tool. And unlike using many mechanical blade grinders, there's no need to disassemble the secateurs first. Here's what to do.
---
Author: The Seed Collection Pty Ltd Date Posted: 26 March 2021
Kale is nutritious, versatile and easy to grow. What's more, homegrown offers vastly better taste and texture than the coarse, bitter leaves too often found in stores. This article gives a guide to growing, harvesting, and using kale to enjoy it.
---
Author: The Seed Collection Pty Ltd Date Posted: 18 March 2021
Armyworms are a group of caterpillar species which can lay waste to a garden. Although they prefer to feed on grasses and grains, any leafy plant is at risk if there's a serious infestation. This article explains the damage these bugs can do.
---
Author: The Seed Collection Pty Ltd Date Posted: 11 March 2021
Compost tea is a thrifty way of recycling weeds and other garden waste, turning them into a nutrient-rich liquid fertiliser for your plants. This article explains how to make it and how to use it effectively.
---
View all blog posts
---
Comments (6)
By:

Paula Pongkin

on 9 March 2017
Thank you, that was helpful. Appreciate much :-). I will give a try and see how my capsicum garden results. If I ever need to learn more I will get back to seek assistance. Thanks again.
---
By:

DAVID SCC

on 12 January 2017
I HAVE PLANTED A LOTS OF CAPSICUM TREES.RECENTLY ALL TREES WERE DAMAGED BY WHITEFLY.ALL LEAVES DROP.HOW DO I OVERCOME THESE PROBLEM.
---
By:

John Evans

on 27 December 2016
Great artical, when I grow capsicums I just plant the seeds from store bought capsicum and have what looks like 100 % germination. Once the weather is warm I just plant them about 6mm deep and water daily then thin them out as needed or transplant them after a few weeks.
---
By:

Lakshmy

on 3 September 2016
Without transplant from nursery to the desire place, can I grow capsicum in the same place.
---
By:

Joy russell

on 12 August 2016
When are the seeds of capsicum ripe enough to plant ?
---
By:

Sweeto organico

on 28 July 2016
After you transplant from nursery to the desire place you want to grow your capsicum, how many days or weeks can you apply synthetic fertilizer and amount of fertilizer everytime you apply it?
---