Custom Printed Pot Packs
Our custom printed pot packs are suited to a large range of uses including:
Wedding favours (bomboniere's)
Promotions
Corporate gifts
Funeral or Memorials
Baby showers or Christenings
Birthdays
Events
Our custom printed pot packs are 58mm x 58mm x 60mm in size when fully assembled.
Each pot pack includes a 60mm biodegrable jiffy pot, a soil pellet (which expands with water), a sachet of your choice of seeds and a custom printed band in your choice of paper. Printing is available in black or full colour.
All three sides can be custom printed, however we do suggest leaving the directions for using your pot pack on one side of the template. We have some templates available or you can submit your own design or logo.
Custom printed Pot Packs are available at 2 price points, Economy and Deluxe:
ECONOMY includes: White, natural or kraft brown paper, black print and a limited seed selection. Pricing below.
DELUXE includes: Our full range of coloured paper, colour print and a large choice of seeds. Pricing below.
Click here to place an order or continue reading below for more information.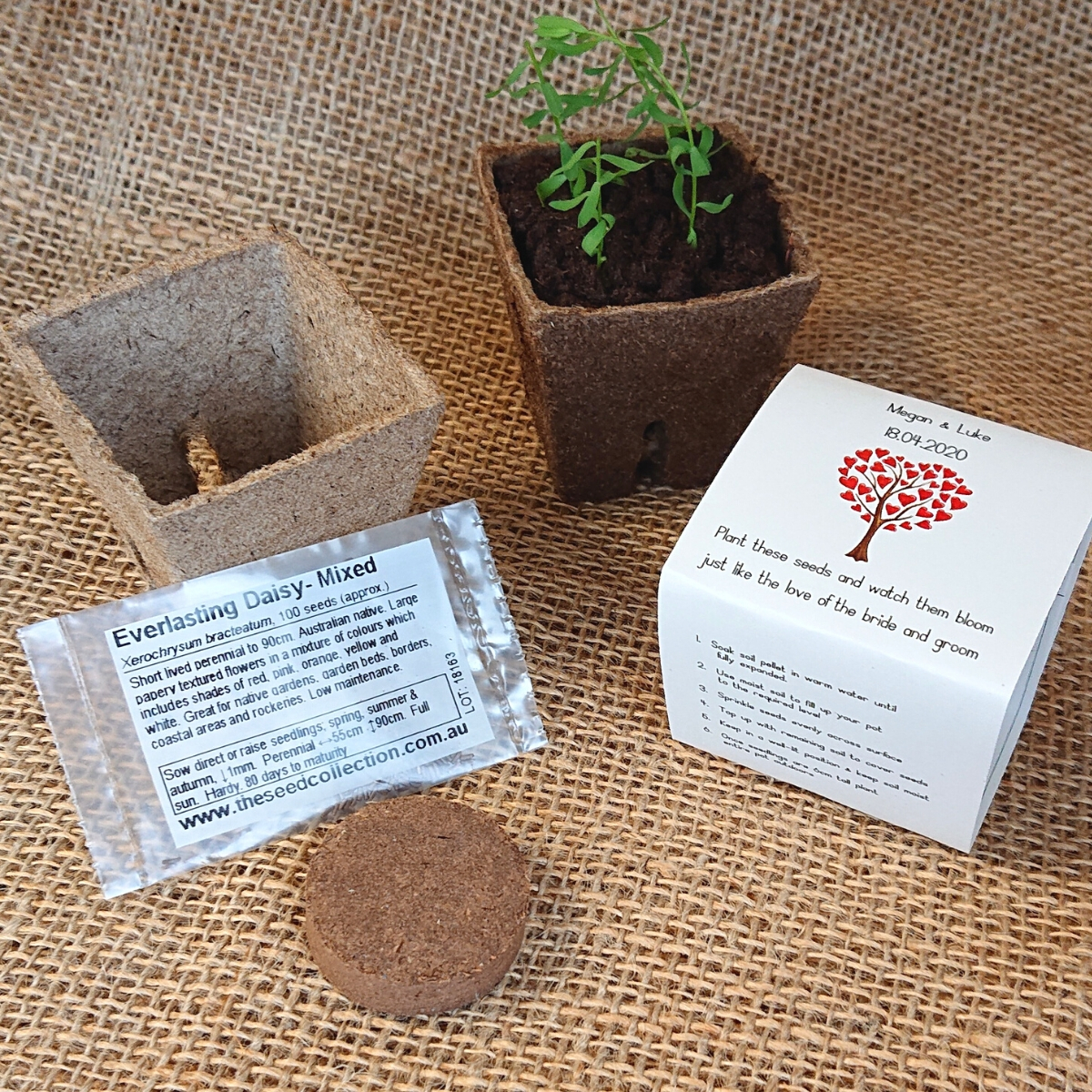 Seeds:
Our ECONOMY range of custom pot packs includes your choice of any of the following seed varieties.
HERBS: Basil, dill, coriander, parsley, chives
VEGETABLES: Carrot, lettuce, rocket, cabbage, kale
FLOWERS: Californian Poppy, Shirley Poppy, Candytuft, Flanders Poppy, Livingstone Daisy, Baby's Breath, Brachycome, Nigella, Everlasting Daisy
Our DELUXE range of custom pot packs includes your choice of any of our available seed varieties listed on our website up to the value of $1.25
*Seed varieties are subject to available stock levels
Paper and Printing
Our ECONOMY range of paper includes the following colours; White, Natural or Kraft Brown. With black print only.
Our DELUXE range of paper includes; White, Natural, Kraft Brown, Red, Bright Pink, Baby Pink, Purple, Grey, Light Green, Green, Turquoise, Baby Blue or Yellow. With black or colour print.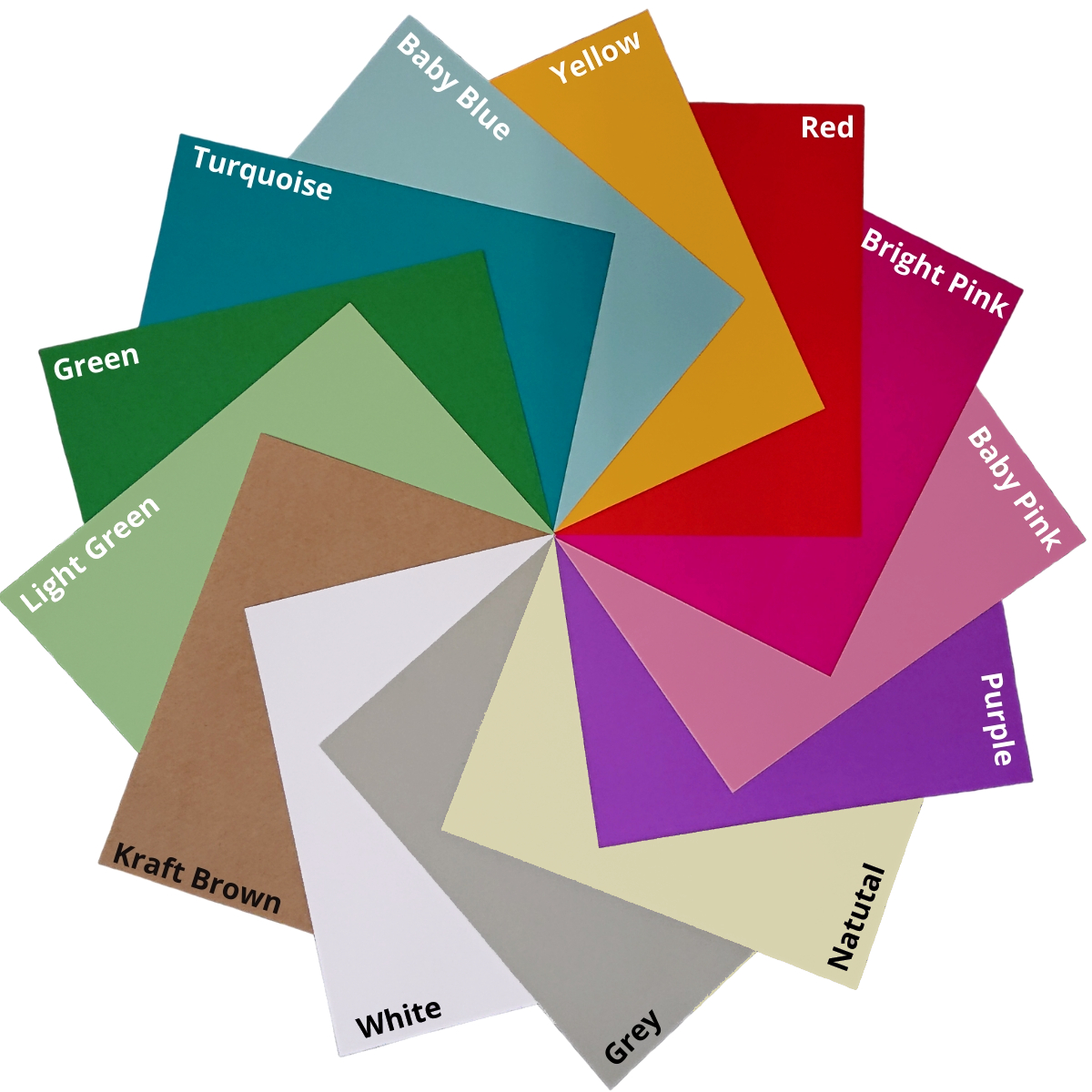 *Colour disclaimer: please note actual colours of product may vary slightly from the colour displayed on your computer monitor.
Pricing:
Minimum order size for custom printed pot packs is 50 packs.
The pricing below is inclusive of seeds, pot, soil pellet and custom printed pot band printed in either black or colour print. There are no additional artwork setup fees.
Quantity

ECONOMY Pricing

-Black print
-White, natural or kraft brown paper
-Limited seed selection

DELUXE Pricing

-Black or colour print
-Full range of coloured paper
-Full range of seeds

(per print/paper/seed variation)
Per Pot Pack
Per Pot Pack
At least 50 Pot Packs
$2.50
$3.00
At least 100 Pot Packs
$2.40
$2.90
At least 250 Pot Packs
$2.25
$2.75
At least 500 Pot Packs
$2.00
$2.50
At least 1000 Pot Packs
$1.90
$2.40
At least 2500 Pot Packs
$1.80
$2.30
5000+ Pot Packs
$1.60
$2.10
*Please note the above pricing is to be used as a guide only. Pricing is subject to change and pricing may vary depending on specific job requirements.
*Please note Custom Pot Packs are not eligible for free shipping.
For special orders and enquiries contact us.
Phone (03) 8719 0440
E-mail admin@theseedcollection.com.au
Artwork Templates
We have a number of templates available that can be customised with your logo, image or message. Click here to browse all templates.
Design your own
Below are the artwork specifications for our 'Custom Printed Pot Packs' .
Artwork is best supplied as a print ready PDF (300+dpi, all text converted to curves/outlines) but we can accept artwork in most common file formats.
The pot packs have a printable area of 58 x 180mm in size so the file size should match this.
Printing is in black or full colour.
PAPER: Minor print defects are expected when printing, for best results we recommend your design avoids the use of large solid areas of black or colour as these can appear patchy when printed.
*Please keep in mind that choosing coloured paper will effect the colour of the print.
Lighter coloured paper works best for printing colours.
Bright and dark coloured paper works best with a full black or greyscale print.
MARGINS: Edge-to-edge printing is not possible on custom pot packs and print bleeds are not required. Please make sure your design includes a print free margin of 4mm from edges and folds.
File downloads: