About our seeds
We have a large range of seed varieties that contains most common vegetables, herbs and flowers as well as many other rare and uncommon types.
We specialise in vegetable, herb and flower seeds but also carry some fruit, native and other ornamental seed varieties. Our catalogue of seed varieties is always expanding.
Our seed varieties are Heirloom and open-pollinated
We don't sell hybrids and we don't sell GMO's.
None of our seeds are chemically treated.
All of our seed is of the highest quality available and is sourced from reputable seed producers.
Our seed packets:
Standard seed packets
Seeds are packaged in small sealed plastic bags that are approximately 50 x 85mm in size. The bags are labelled with common name, botanical name, lot number, a variety description and basic sowing information. For full sowing information customers can browse the product descriptions and sowing guides on our website.
Quantity of seeds per packet depends on the variety but at a minimum we try and give enough seeds for an average home gardener. (See our product descriptions to view seed counts. Note: Seed counts are only approximate and to be used as a guide only)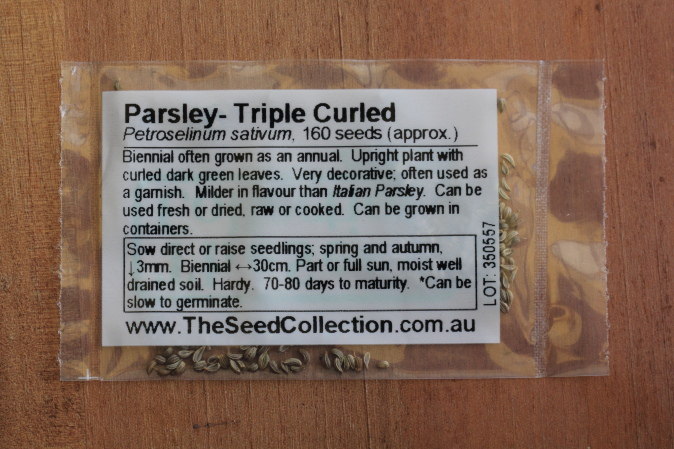 Viability
The majority of our seed 'lots' are independently tested for germination. We will never sell any seed that doesn't meet our high quality standards.
Storage
We store our seeds in a temperature and humidity controlled environment right up to the day they are dispatched. This ensures our seeds remain of the highest quality possible.
Origin
Our seeds are sourced as locally as possible from various locations throughout Australia and overseas when necessary. We can not guarantee the original origin of all of our seed varieties as it's subject to change depending on availability and seasonality. All of our seeds meet the stringent Australia BioSecurity requirements. Any seed variety not permitted for import into each state is labelled accordingly.