Hand Pollinating Cucurbits
Written by Sarah Rasdall Date Posted: 15 January 2016
(Cucurbits are a family of vegetables including melon, pumpkin, cucumber, zucchini, gourd, watermelon, luffa and squash)

If you find that your Cucurbits are not setting fruit and the flowers are simply falling off the plant, you might have a pollination problem. But don't stress, there's an easy solution and that's hand pollination. Here's all you need to know about what you can do to get your veggies pollinated and setting fruit.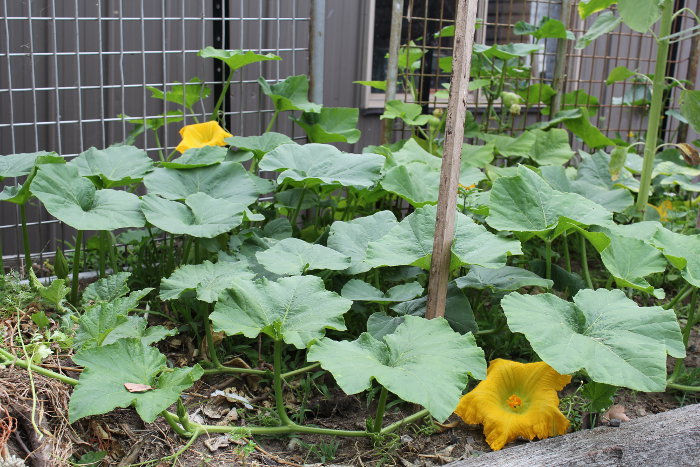 There's a Male and Female Flower. Who knew!?
All plants in the Cucurbit family have individual male and female flowers and when pollinated, the female is the one that will ultimately produce the fruit. In order for this to happen, the pollen is moved from the male flower to the female flower by pollinators like bees, ants and moths. So if your Cucurbits aren't setting fruit, you can pollinate them yourself quite easily.
Which is Which?
Determining the male and female flowers is the first step in hand pollination. (see photo below)

The Female Flower
The Female flower is the flower that holds the fruit beneath it. Look for the flower whos stigma(the stigma is located in the center of the flower) is complex and wide. Beneath the flower you will see the beginnings of the fruit/vegetable. It will look like a swelling of the flower stem immediately below the flower.
The Male Flower
The male flower is very basic and has no swelling directly under the flower. It's a basic stem and flower.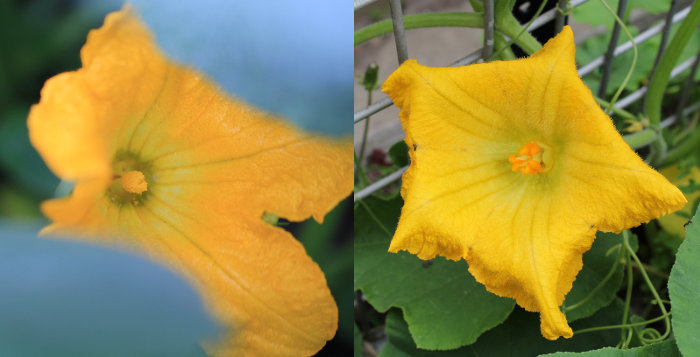 Above: Male flower on the left, female flower on the right.
Timing is everything
Most vegetable flowers come out quite late at night, so if you're not a night owl, it's a good idea to get outside around the time of the sunrise to pollinate your veggies. The reason for doing it so early is that the flowers will quickly close up as the sun starts to beat down. This early time of the day is when bees are most active and you're about to do your best Bee impersonation, so timing is important.
Gather your Tools
To be the bee that does the do and creates the fruit, grab yourself a paintbrush or cotton bud, because in this process that's all you need. I told you this was simple!
Get your Buzz on
Now that you have your tool ready and the sun is still sleeping, it's time to get outside and get your best busy bee buzz on. Once you've determined the male and female flowers, go to the male flower and gently brush the stamen(the stamen in located in the center of the male flower and is the part of the flower that produces pollen) from the base up so that the pollen falls onto your brush/cotton bud. Then look for the closest Female flower and gently paint the pollen to her stigma. Alternatively you can pluck the male flower, gently take the petals off, then touch the Stamen from the male plant to the Stigma of the female flower, being sure to transfer plenty of pollen to her. And that's it! You're done! The flowers are now pollinated and fruit should soon begin to develop!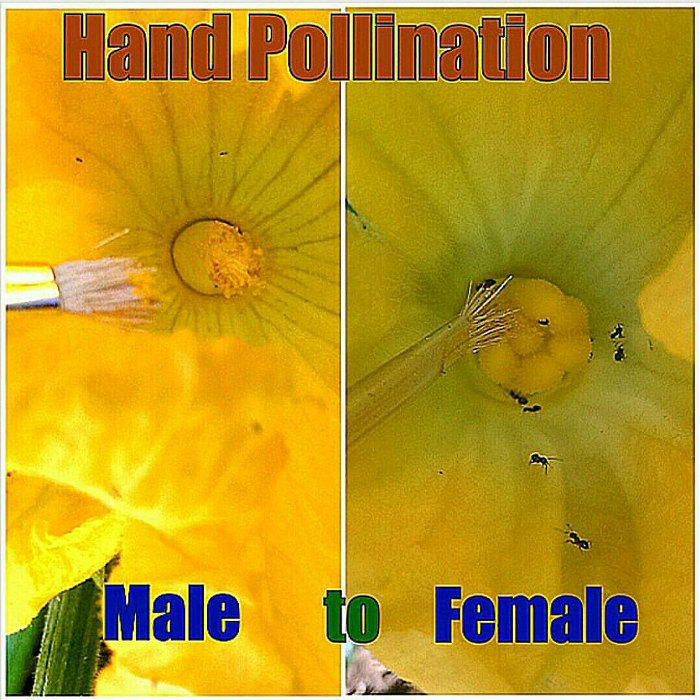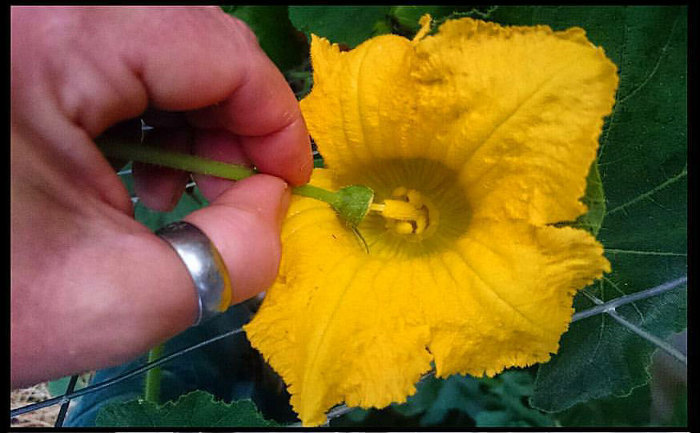 Note: If the Male flower opens before the female flower, you can pick the male flower, put it in a vase of water and store it in the fridge until the female opens and you're able to pollinate her.
---
Related blog posts:
---
Author: John Mauger Date Posted: 28 August 2016
Making seed tapes is easy and fun. It a great way to ensure an even sowing and is a good indoor activity for kids. This method is easiest for larger, easy to handle seeds such as beetroot but can also be used for smaller seeds such as carrots.
---
Recent blog posts:
---
Author: The Seed Collection Pty Ltd Date Posted: 1 April 2021
While your overall gardening activity might be slowing down as winter approaches, April is still an incredibly important month. The gardening hours you put in now will pay huge rewards over winter.
---
Date Posted: 31 March 2021
Sharpening secateurs, shears, knives, scissors, and many other gardening tools is straightforward using a specialised sharpener tool. And unlike using many mechanical blade grinders, there's no need to disassemble the secateurs first. Here's what to do.
---
Author: The Seed Collection Pty Ltd Date Posted: 26 March 2021
Kale is nutritious, versatile and easy to grow. What's more, homegrown offers vastly better taste and texture than the coarse, bitter leaves too often found in stores. This article gives a guide to growing, harvesting, and using kale to enjoy it.
---
Author: The Seed Collection Pty Ltd Date Posted: 18 March 2021
Armyworms are a group of caterpillar species which can lay waste to a garden. Although they prefer to feed on grasses and grains, any leafy plant is at risk if there's a serious infestation. This article explains the damage these bugs can do.
---
Author: The Seed Collection Pty Ltd Date Posted: 11 March 2021
Compost tea is a thrifty way of recycling weeds and other garden waste, turning them into a nutrient-rich liquid fertiliser for your plants. This article explains how to make it and how to use it effectively.
---
View all blog posts
---
Comments (6)
RE: Hand Pollinating Cucurbits

By:

Robert Pascoe

on 17 March 2016
Excellent, thank you, more please
---
RE: Hand Pollinating Cucurbits

By:

Sharyn Johnson

on 17 March 2016
I have a butternut pumpkin vine that has grown very well and taken up a lot of garden space. There has only been evidence of fruit on it twice and each time the fruit grown to about 2cm and then browns and drops off. I can only find male flowers on the plant. Is their a way to get the vine to produce more female flowers so I can pollinate them? Thanks
---
RE: Hand Pollinating Cucurbits

By:

Adam Boddy

on 17 March 2016
@Sharyn: It sounds like the fruit you had was a female flower that wasn't pollinated and aborted. There is no way for you to encourage more female flowers, the plant should provide a mix of flowers by itself; be patient:-) ...Next time you see a female flower(with the small 2cm fruit) try hand pollinating it yourself before it drops off.
---
RE: Hand Pollinating Cucurbits

By:

Adam Boddy

on 17 March 2016
The most likely problem is lack of pollinators. You can grow more flowers next to the plants to attracts more bees. Marigolds are good. Continue hand pollinating but make sure to use the flowers when the pollen is mature. Excessive heat can cause flowers to drop regardless of pollination, if you're experiencing extremely hot summers consider using shade cloth. Too much nitrogen in the soil can cause lack of overall flowers but it doesn't sound like you are having this problem. Humidity and wet weather can effect pollen and also cause germination issues.
---
RE: Hand Pollinating Cucurbits

By:

Terry JONES

on 17 March 2016
Any reason my zuchini plants are all male plants ,i think i can see one female coming just today .Ihave the zuchinis growing about 10 foot away from pumpkins which are doing ok
---
RE: Hand Pollinating Cucurbits

By:

Adam Boddy

on 17 March 2016
@Terry: It's common for plants to strat with all male flowers. Female flower normally develop a week or 2 later.
---