For such a necessary part of nutrition, carbohydrates have picked up something of a bad reputation lately. However, there's no doubt that modern diets tend to be loaded heavily in favour of carbs as a quick, low-cost filler.
Whether it's because of gluten intolerance, a desire to lose weight, or simply wanting to eat a more balanced diet, many people are choosing to cut back on their carb consumption.
But this doesn't mean you need to give up on pasta or noodles - or at least, you needn't give up on your favourite dishes based on them.
Noodles made from zucchini (AKA zoodles) are a healthy, low-carb, low-calorie way to enjoy your favourite pasta sauces and stir-fry dishes.
And for the gardener, zoodles provide a welcome way to help use up the seemingly endless supply of zucchini you'll face in a prolific summer.
How to Make Zucchini Noodles
There are four main ways of turning zucchini into noodles.
Using a Knife
If you have good knife skills, simply slice a zucchini lengthwise into long, thin bands, and then again into spaghetti-like strips. While this produces reasonable results, it's time consuming, and producing a family-sized portion quickly becomes a test of patience. However, the knife method is a good way to test the zoodle water if you're curious.
Julienne Peeler
A standard veggie peeler can be used to make thin bands which are then sliced into zoodles, but a julienne peeler takes things to the next level.
Using this gadget, your normal peeling action will produce noodle-like strands of zucchini without the extra chopping stage. It's quick and easy, but tends to make shorter, thicker noodles rather than long silky strands.
Also, the julienne method is a little wasteful, leaving behind a greater proportion of the mushy zucchini core.
Mandoline Slicer
A standard kitchen mandoline makes short work of producing sheets of zucchini for a worthwhile alternative to lasagne or papardelle. However, most good mandolines also come with a julienne attachment for a more noodle-like result.
Mandolines are quick and easy to use, and are also a versatile accessory for many other slicing and dicing tasks.
The Veggie Spiraliser
However, if you're serious about your zoodle adventures, it makes sense to invest in a vegetable spiraliser. These grater-like gadgets turn zucchini into noodles at the turn of a handle, and the better models can also cope with tougher veggies like sweet potato or carrots. They can also be used with apples or pears to add an interesting twist to salads or desserts.
Spiralisers are available in three basic forms. Handheld versions are cheaper and more compact, but take a bit of elbow grease to use. Counter-top models are secured to the work surface with a large sucker on the base. They take less effort, and are sturdy enough to produce kilos of noodles at a time.
Lastly, you can also get spiraliser attachments for most food processors or mixers to make the whole process more or less automatic.
Cooking Methods
Whichever way you make your zoodles, there are five main ways of cooking with them.
Raw
Zucchini are largely water, which makes cooking zoodles a bit tricky. Overdo it by seconds and you'll easily end up with a soggy mess.
The simplest solution to this is to use your zoodles raw. They make a great addition to Italian or Thai-style salads, or can be mixed straight into a hot ragu or spicy broth before serving immediately.
Microwave
For quick and easy cooking, simply pile your noodles onto a plate, cover, and microwave for a minute or so, where they'll cook in their own steam. Try doing this in 30 second bursts to be on the safe side until you get a feel for the timings.
Boiling
Alternatively, throw your noodles into salted, boiling water and return to the boil. Remove immediately or cook for a minute or two longer until tender. Drain, and serve straight away.
Microwaved and boiled noodles are fragile, and best served with a few added ingredients or a light dressing. Try tossing them hot with Parmesan cheese, crushed garlic, and black pepper - the natural liquids in the zucchini will help bind the flavourings into a delicate sauce.
Frying or Sautéing
If you're preparing an oil-based sauce or a stir fry, then sautéing is the ideal method of cooking your zoodles. Quickly fry until tender, and use in any recipe which calls for pre-boiled noodles or pasta.
Baking
Lastly, zoodles can also be baked. The simplest way is to cook them alone, by scattering on a baking tray lined with kitchen paper, sprinkling with salt, and cooking in a very low oven until tender.
Alternatively, use zoodles instead of pasta in a cheesy bake, a pasta al forno, or even a substantial tart or pie.
Zucchini Noodles Tips
The best zoodles have a good mix of skin and flesh to help them keep their shape. Noodles made purely from the pulpy centres fall apart extremely easily, especially when cooked.
To help with this, choose long, thin, cucumber-shaped zucchini with plenty of skin rather than bulky globe types.
Use any leftover cores in a stir fry, a stew, or to bulk out a pasta sauce.
Spiralisers tend to make super-long strands which should be cut into more easily handled lengths before adding to your dish.
Raw zucchini noodles will stay fresh in the fridge for 2-3 days, where they can even improve in texture as they dry out a little.
Whether you're looking to cut back on carbs for health reasons, or just want an interesting new way of dealing with a zucchini glut, zoodles could make an unusual, tasty, and healthy addition to your kitchen repertoire.
Making zucchini noodles with a spiraliser: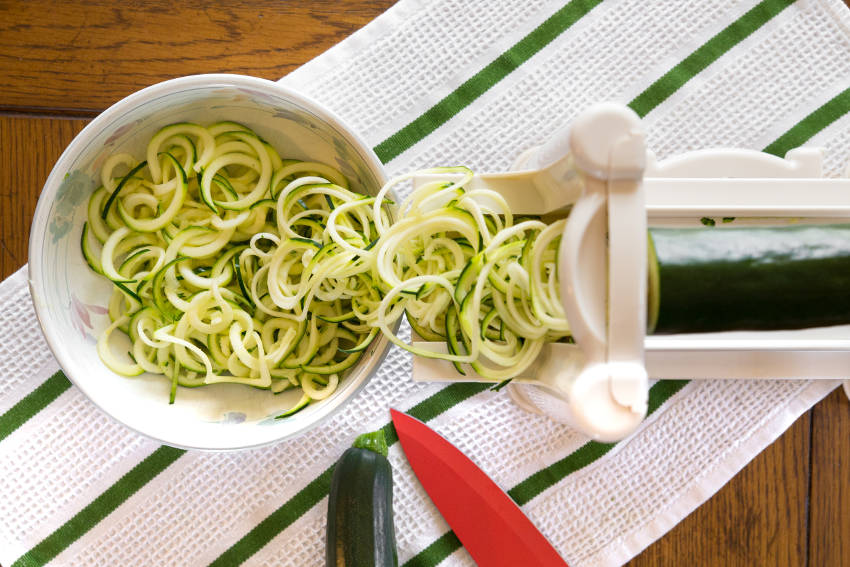 Making zucchini noodles with a julienne peeler: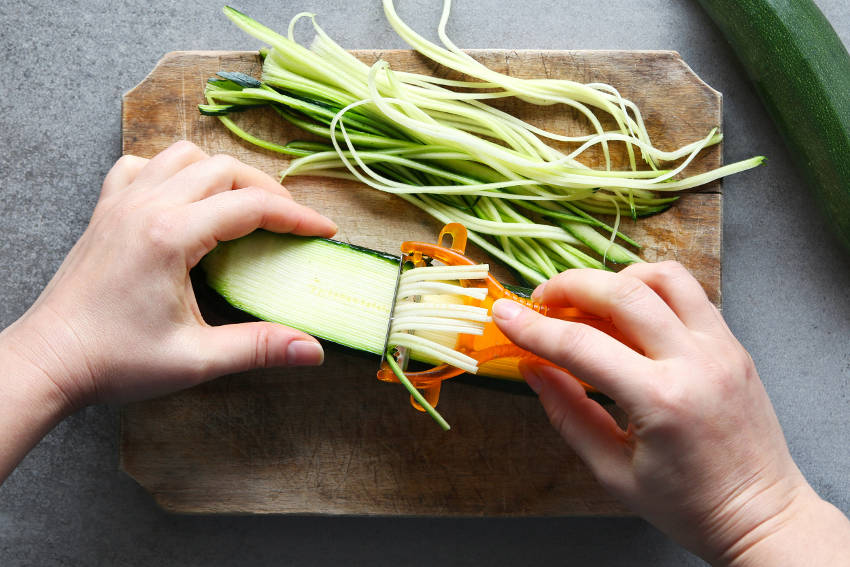 Zucchini noodles ready to eat: