Dealing with Slugs and Snails in an Organic Garden
Written by Bill Date Posted: 24 February 2017
Slugs and snails will be part of a healthy ecosystem in many gardens and having some will usually be a fact of life. That said, you will have to control populations if they are too large. Slugs and snails can cause a lot of damage and are a particular problem for young plants.
Short Term Control
In the long term, making sure the garden has a balanced ecosystem will keep the numbers of these pests down. In the short term, there are some measures you can take to protect your plants:
Slugs and snails are found in greater numbers after dark. Go to the garden with a torch and remove them by hand to keep numbers down. Removal is not a long term solution as getting rid of them can create a vacuum that can cause a population boom and make the problem worse in the long term.
Protect seedlings by covering them with cloches made from cut off plastic drink bottles or similar. Give larger plants collars made from plastic drinks bottles or similar.
Encircle beds containing vulnerable seedlings with copper tape or copper electrical wire and/or put a barrier of crushed, cleaned and dried egg shells around plants (this will only work in dry conditions when egg shells are sharp). Wood ash also works as a barrier in dry conditions, though could make soil more alkaline and should only be used in moderation. Some say that sheep's wool can also be used as a barrier around plants.
Traps For Slugs and Snails
If you have a bad population imbalance then you will probably have to trap and kill some slugs and snails. One popular trap is a bottle half buried in the soil with two holes cut in the side, half filled with beer. (Put a stick leading out of the bottle to allow other creatures to escape.) Slugs will enter, get drunk and drown.
Any moist damp places will be hiding places for slugs and snails. Look in these spots and you will see congregations and be able to establish the scale of the problem.
Plants To Repel Slugs and Snails
Chives (placed or tied around plants)
Rosemary
Anise
Fennel

Attracting Predators To Eat Slugs and Snails
The most effective way to control slug and snail populations in your garden is to make sure that you have predators around to keep their numbers down.
Predators of slugs, snails and their eggs:
A range of different wild birds. (Attract as many birds as possible with feeders and nest spots etc.)
Lizards and other reptiles.
Some Frogs and Toads.
Some small mammals
Chickens: Chickens should eat slugs and snails. Allowing them to range into areas where they are found will help reduce numbers (though watch out as they will also tend to eat and scratch up seedlings). You can also throw any slugs and snails into the chickens' area when you find them. Just make sure you worm chickens regularly.
Ducks and geese also eat slugs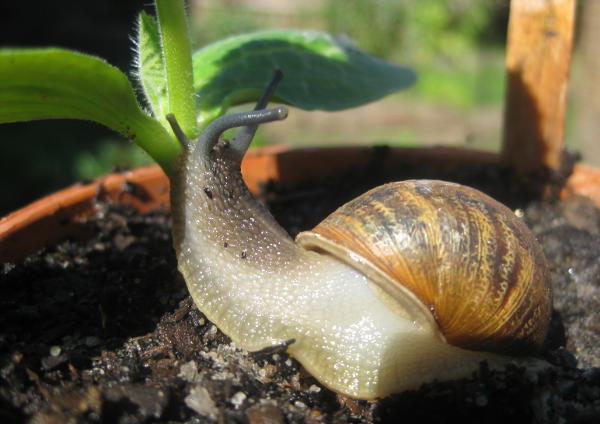 Related blog posts:
---
Author: John Mauger Date Posted: 22 June 2017
Integrated pest management is an ecosystem-based strategy that focuses on long-term prevention of pests or their damage through a combination of techniques such as biological control, habitat manipulation, modification of cultural practices, etc.
---
Author: Jennifer Charlotte Date Posted: 1 March 2017
At first the prospect of starting an organic garden can seem daunting to the novice gardener but once you have a basic understanding of standard terms and techniques, you'll quickly find that going green in your garden is simple, healthy, and fun.
---
Author: Rowan Date Posted: 27 September 2012
With spring rains and warmth providing perfect conditions for eating and breeding, you need to get on top of snails now before they start laying their eggs. You don't want the shock of coming out one morning and seeing all your little seedlings decimated!
---
Recent blog posts:
---
Author: The Seed Collection Pty Ltd Date Posted: 1 April 2020
Gardening is an enjoyable pastime that's worth pursuing just for its own sake. But it can also provide many health and wellbeing benefits. This article explains some of the most important improvements it can bring.
---
Author: The Seed Collection Pty Ltd Date Posted: 26 March 2020
Around 400 species of native plants rely on regular bushfires as part of their germination cycle. If you want to grow these plants at home, you need to simulate the effects of bushfire smoke, and here's how to do it.
---
Author: The Seed Collection Pty Ltd Date Posted: 20 March 2020
If you grow beans, peas, tomatoes or other legumes, you're likely to be visited by green vegetable bugs at some stage. What damage do these pests do, and how can you keep it to a minimum?
---
Author: The Seed Collection Pty Ltd Date Posted: 13 March 2020
Homemade popcorn makes a great healthy wholegrain snack food and it's a fun thing to make with kids, especially when made from home grown cobs. This article details 2 methods to make popcorn from your own home-grown corn.
---
Author: The Seed Collection Pty Ltd Date Posted: 28 February 2020
Though they are known by many names the ladybird, ladybug or lady beetle they are part of the larger beetle population belonging to the family coccinellidae. Found throughout most of the world there are around 500 species in Australia alone.
---
View all blog posts
---
Comments (1)
By:

Lin Dillon

on 4 March 2017
You say chives repel slugs and snails but I've found small black slugs seem to love my garlic chives. I often find them on them early in the morning and they do a fair bit of damage. My slug problem is quite bad and one method I've found very helpful (with added advantages) is to grow the seedlings in sleeves cut from 2L milk bottles. I line up the sleeves (which are approx 90ml high after top and bottom are cut off) in large plastic nursery trays lined with shadecloth on the bottom, fill with seed raising mix and when the seedlings are planted out I just lift the sleeves up and leave them around the seedlings until they've developed to the stage where the sleeve needs to be removed. Another advantage of this is the roots don't get disturbed at all as long as they're planted before they start coming through the bottom. The seedlings get a flying start from having plenty of room to grow roots and not being disturbed at planting time and the slugs and snails never climb the plastic sides. The only downside to this is the large amount of seed raising mix I go through but I've turned that into another advantage. I take soil back from the veg garden and mixing sand, coir and seived compost with it to make my own mix. As my soil is very clayey this has the added advantage of gradually building up sand levels in it. I'll be interested to try the rosemary, anise and fennel you suggest. Cheers Lin
---