Pumpkin, Gourd and Winter Squash are all popular vegetables to grow in the home garden but how and when is the best time to harvest them?
So you have a thriving pumpkin patch full of beautiful pumpkins and you're starting to think about picking them. Did you know that their taste and storage qualities will depend on when you harvest them and how you handle them? Here's how to achieve maximum flavour and the longest shelf life:
Timing
If picked too early your pumpkin will be bland, having never developed its natural sweetness. If you wait too long, frost could shorten its shelf life. When the perfect moment arrives, you'll see one or more of these signs:
Dry leaves. When the leaves have dried and turned brown, the plant's life cycle is complete; it has infused as much flavor into its fruits as it possibly can.
Woody stems. When the stems on each squash are no longer green, but tough and brown like wood your pumpkins are ready to harvest.
Frost is threatening. Exposure to a light frost will shorten the shelf life of the pumpkin, and a heavy freeze will ruin it. If the weather report predicts chilly temperatures, it's time to bring your pumpkins inside.
Harvest
Harvest your pumpkins by cutting them at the vine, leaving a few inches attached to each fruit. Remember that the stem on a pumpkin is not a handle; if a stem breaks off, be sure to eat that pumpkin quickly, before decay sets in.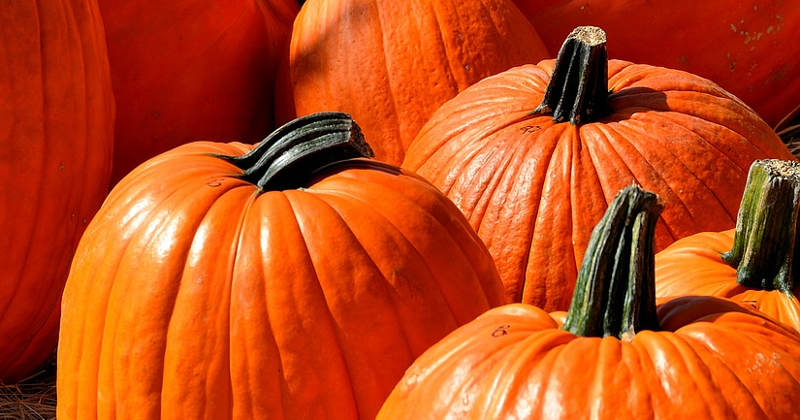 Curing
Curing pumpkins will give the fruit a tougher skin which will dramatically improve their storage life.
Wait a week for the skins to harden, or cure, before you transfer the pumpkin into long-term storage. If your climate is usually sunny, group the pumpkins together in the field; cover them with a tarp at night to protect from light frost, but remove the tarp each day for sun exposure. If the weather in your area is unpredictable, you can cure the pumpkins on a covered porch. Do not stack them; arrange the pumpkins in a single layer with a few inches of separation so that air can flow between them.
Storing
Your pumpkins should store for up to six months(or even longer!) in a dark, dry room at temperatures between 10 and 16°C . It's a good idea to place a layer of cardboard or plywood beneath them; this will protect your floor if any of them begin to decay. Check and rotate the pumpkins regularly and discard any that show signs of mold.
Keep in mind that thinner skinned varieties(like butternut) will generally not keep as long as thicker skinned varieties.
By harvesting your pumpkins at the peak of ripeness, and curing and storing them well, you'll achieve produce of gourmet quality that you'll be able to use throughout autumn and winter!