If you have grown zucchinis this summer you will probably have more zucchinis than you know what to do with so here are a couple of interesting recipe ideas you might consider to use up the surplus:
Oven Baked Zucchini Chips
Ingredients
1 (large) zucchini, cut into 3-6 mm slices
1/3 cup whole grain breadcrumbs
1/4 cup finely grated Parmesan cheese
1/4 teaspoon black pepper
Salt to taste
1/8 teaspoon garlic powder
1/8 teaspoon cayenne pepper
3 tablespoons milk
Directions
Preheat oven to 220

°C.

Combine in a small mixing bowl, breadcrumbs, Parmesan cheese, black pepper, salt, garlic powder, and cayenne pepper. Dip zucchini slices into milk and dredge into bread crumbs stick to both sides. Note: It may be necessary to press crumbs onto zucchini slices to ensure the bread crumbs stick.
Arrange zucchini on a tray lined with baking paper and lightly mist with cooking spray.
If using a rack, place rack on the tray. Bake 15 minutes, turn over and continue baking until golden, approximately 10-15 minutes (being careful not to burn). Allow to cool to room temperature before storing in an airtight container.
TIP: Zucchini Chips will continue to get crispier while cooling.
NOTE: For gluten free chips, use gluten-free bread crumbs.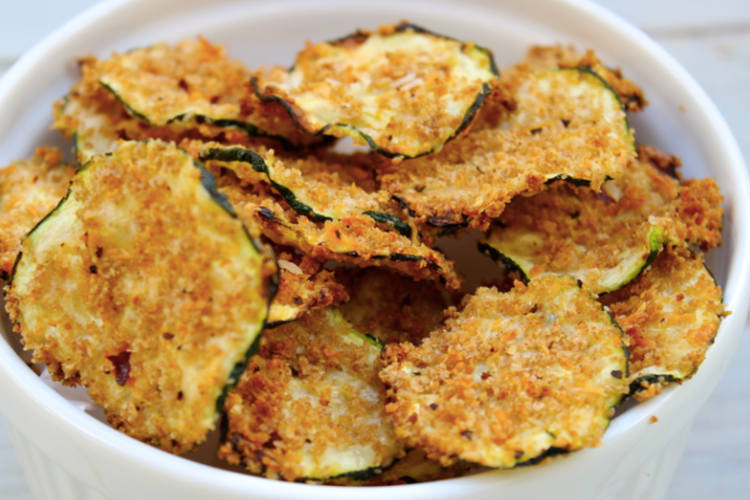 Zucchini Balls
Ingredients
Cooking spray
1 tsp olive oil
2 garlic cloves, crushed
1/2 kg unpeeled zucchini, grated
1/2 tsp salt
1/8 tsp black pepper
3 tbsp chopped basil, plus leaves for garnish
1 cup Italian seasoned breadcrumbs
1 large egg, beaten
1/4 cup Pecorino Romano cheese, freshly grated, plus more for serving
2 cups passata or pasta sauce
Directions
Heat the oven to 190

°C

. Spray a large rimmed baking tray with cooking spray.
Place the olive oil in a large nonstick skillet over medium heat. When hot add the garlic and sauté until golden, about 30 seconds.
Add the zucchini, season with salt and pepper and cook on high heat until all the water evaporates from the skillet, 5 to 7 minutes.
Transfer to a colander to get rid of any excess water, then to a large bowl along with the bread crumbs, beaten egg, Romano cheese and chopped basil.
Form the zucchini mixture into around 16 balls, rolling tightly and transfer to the prepared baking tray. Spray the top and bake until firm and browned, about 20 to 25 minutes.
Heat the sauce in a large deep skillet to warm the sauce, about 4 to 5 minutes. Add the balls to the sauce and simmer for 5 minutes.
Garnish the balls with fresh basil leaves and serve with ricotta or grated cheese if desired.