Boysenberry (Cane)
Rubus ursinus x ideaus
---
Long, nearly thornless canes
Sweet-tart fruit
Vigorous and high yielding

NOT FOR TAS, WA
---
Description
Boysenberry (Cane)
Rubus ursinus x ideaus
Long, nearly thornless canes
Vigorous and high yielding
Perennial fruit with nearly thornless, long canes producing deep purple to black berries with a sweet-tart flavour. Vigorous and high yielding. The sweet fruit can be eaten fresh or used in pies, crumbles, drinks and preserves. Boysenberry is a hybrid between raspberry, blackberry, dewberry and loganberry, bred in the 1920s in California by Rudolph Boysen. Suitable for growing in all climates with a cold winter.
Boysenberries produce fruit on two-year-old canes (called floricanes).
Berry canes are the roots and stems of the plant that are grown for a year then pruned to a single stem, dug up and sold bare-rooted (without soil). Canes will grow vigorously in the first year after planting.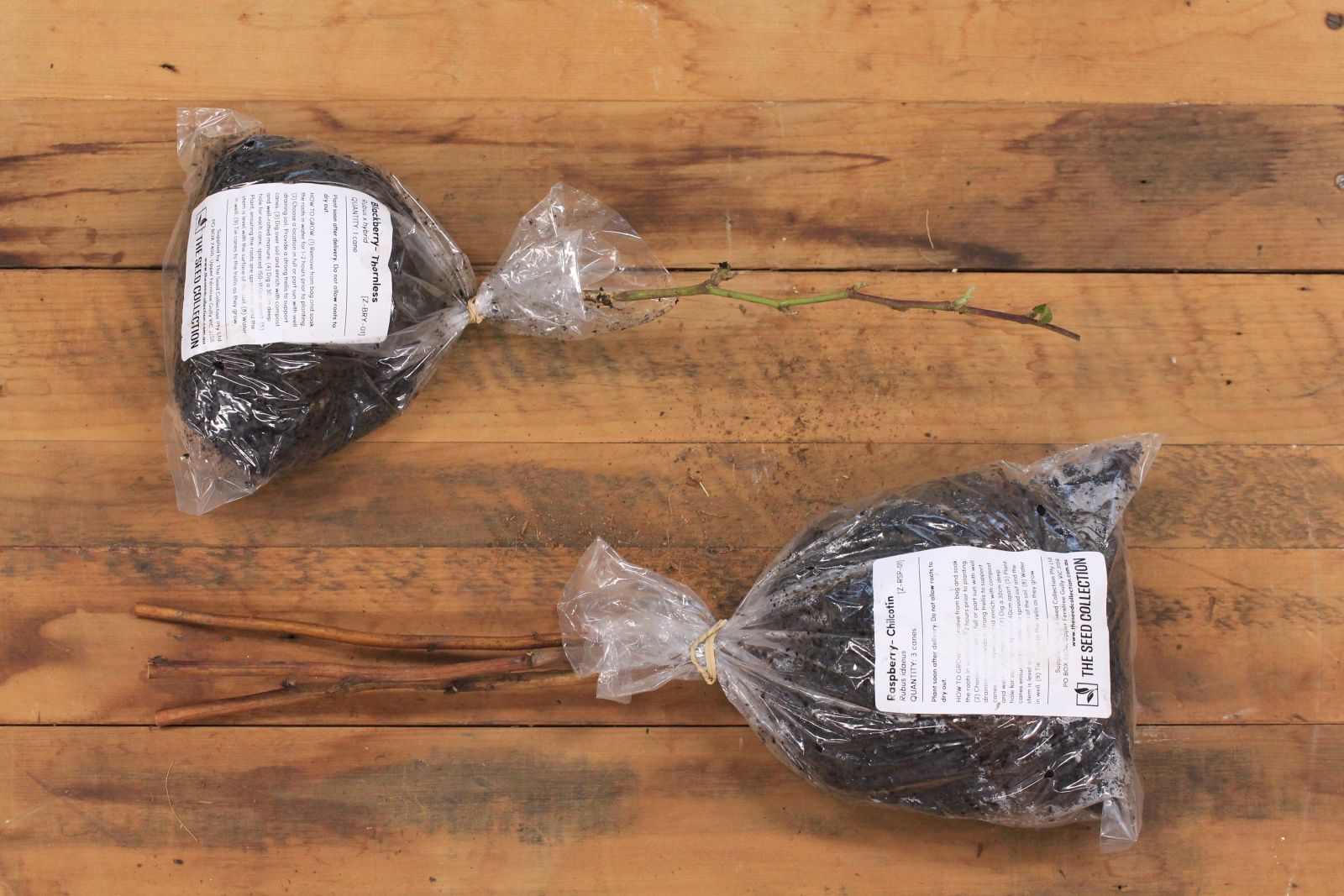 Product code: Z-BRY-02
Best Months to Plant
Quick Planting Guide
*Notes: Requires a strong trellis or support. Protect fruit from birds. Prune canes that have fruited to the ground in winter.
Shipping
We deliver Australia wide.
All orders are dispatched from our warehouse in Knoxfield, Victoria, Australia.
We do not deliver overseas.
Shipping cost is calculated using all the items in your shopping cart and your delivery postcode. The table below outlines the delivery options and costs.
Order dispatch time is currently 1-3 business days plus delivery time.
Please note we are unable to guarantee specific delivery dates or delivery timeframes, all delivery times are estimates only.
Order contains:
Delivery options:
Delivery cost per order
VIC, NSW, ACT, QLD, TAS, SA, NT
WA
Small seed packets ONLY -
Economy Delivery
$3.00 or FREE on orders over $25
$5
Parcel Delivery
Capped rate of $8.99
Express Delivery
$15.00

BULK seed, garden supplies, tools, or accessories -

Parcel Delivery

Capped rate of $8.99

Express Delivery

Starting from $15.00
(Calculated by weight)
Live Plants -
Live plants
Capped rate of $10.00
*All orders sent to Western Australia are subject to mandatory inspection and fees by Quarantine WA. These fees are included in all shipping costs above.
**We will replace all orders that are lost or damaged in transit however we will not replace or refund orders simply because they were delivered later than estimated. Full details here.
Ratings & Reviews
Be The First To Review This Product!
Help other The Seed Collection Pty Ltd users shop smarter by writing reviews for products you have purchased.