Consider the Humble Nasturtium:
Brilliant cherry red, yellow, scarlet and orange nasturtium flowers, tall, short and climbing ramble across my garden uninvited but welcome. Some have variegated leaves, splashed with yellow. I saw they were encouraged at Monet's marvelous garden at Givenchy. I prize them because they contain iron and a high level of vitamin C and were once taken as a remedy for scurvy. Medicinally, all parts of the plant are said to have a tonic, cleansing and antiseptic effect.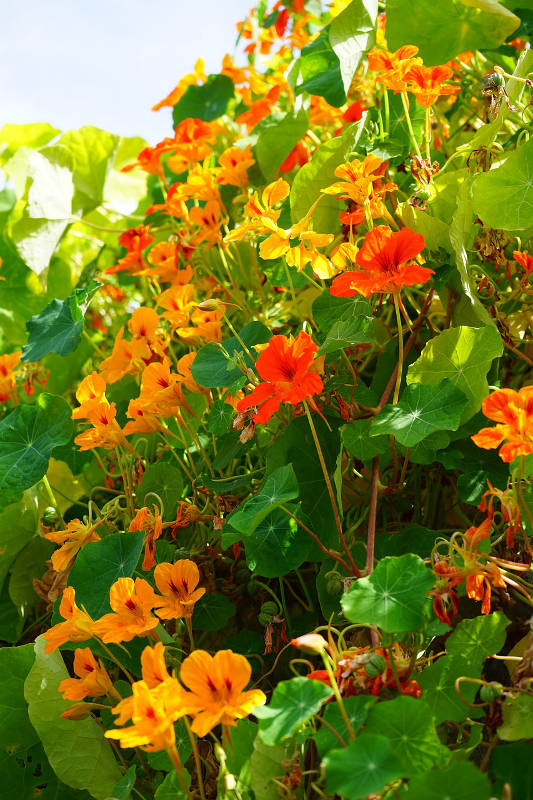 Nasturtiums are found in many parts of the world. Tropaeolum majus is believed to have originated in the Andes from Bolivia north to Colombia. The seeds were taken to Europe from Peru by Spanish explorers in the 16th century. The name 'nasturtium' comes from the Latin for 'nose tormentor' as the leaves are peppery in taste. The plant dies down in the winter and is very easily removed by hand.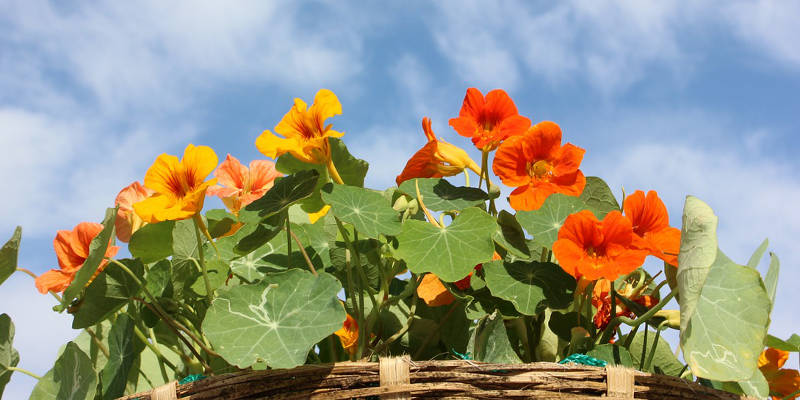 A gentle scent arises from nasturtiums in the sun. They repel aphids and cucumber beetles. The plant secretes a mustard oil which white flies find attractive. These pests will seek out nasturtiums in preference to cabbage, cauliflower or broccoli so they are a good companion plant. Nasturtiums are particularly good planted near radishes to give them their hot taste.
I think the soft, almost circular leaves, darker on the top, cupping towards the sky are beautiful. One morning, my three year old son came slowly towards my bed, carefully carrying a leaf with a crystal clear drop of dew wobbling about in its centre and told me it was better than a cup of tea before he tipped it over my face!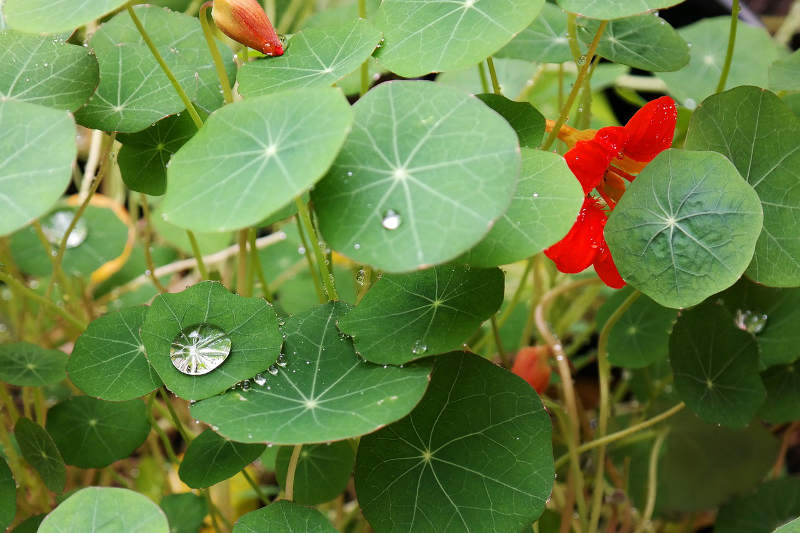 Leaves can be used in salads where they impart a distinctly peppery flavour. They can be used in flavoured vinegars, vinegraittes, salad oils, pasta, stews, sandwiches and garnishes.
The unripe seeds can be used like capers but eaten in large quantities have a purgative effect. Seeds, leaves and flowers can be chopped and blended into butter for piquancy.
Children and bees sip the nectar in the flower spurs. The orange flowers make a brilliant garnish for green salads. They can be filled with a soft cream cheese and herb filling shortly before serving. I have had surprised dinner guests who have cautiously nibbled at the flowers, which seems to me to be a strange attitude when you see what some people eat!.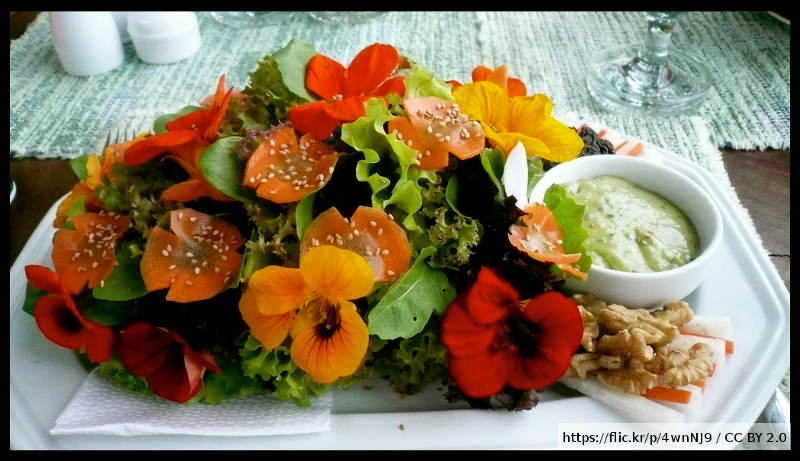 Written by Ann Howard.