Dragon Fruit- Connie Mayer (Cutting)
Selenicereus undatus x stenopterus
---
Climbing perennial cactus
Ornamental purple flowers
Requires cross-pollination

NOT FOR TAS, WA
---
Description
Dragon Fruit- Connie Mayer (Cutting)
Selenicereus undatus x stenopterus
Synonyms: Hylocereus undatus x stenopterus
Climbing perennial cactus
Ornamental purple flowers
Requires cross-pollination
A succulent perennial cactus that grows as a climbing vine with stunning purple to pink flowers that open at dusk and close by dawn. The fruit is green to yellow skinned, sometimes with a pink flush, with white flesh and a very sweet flavour with a hint of coconut. First bred in Germany and now grown commercially in Queensland. This variety is self-sterile and requires cross pollination with another variety. Also known as 'German dragon fruit'.
Dragon fruit is a tropical plant native to Mexico and Honduras. The cactus-like plants are succulent and are usually grown up a pole or trellis, with multiple, spreading branches at the top. Tropical flowers that resemble waterlilies open at night and are pollinated by bats or moths. The fruit has a hard skin and soft, sweet-falvoured flesh speckled with small edible seeds. Also known as 'Pitaya', ''Pitahya', 'Queen of the Night', 'Night-blooming Cactus', 'Moonlight Cactus' and 'Cinderella Plant'.
Note: bare-rooted cuttings are between 15cm and 25cm in length. Plant with the arrow pointing upwards.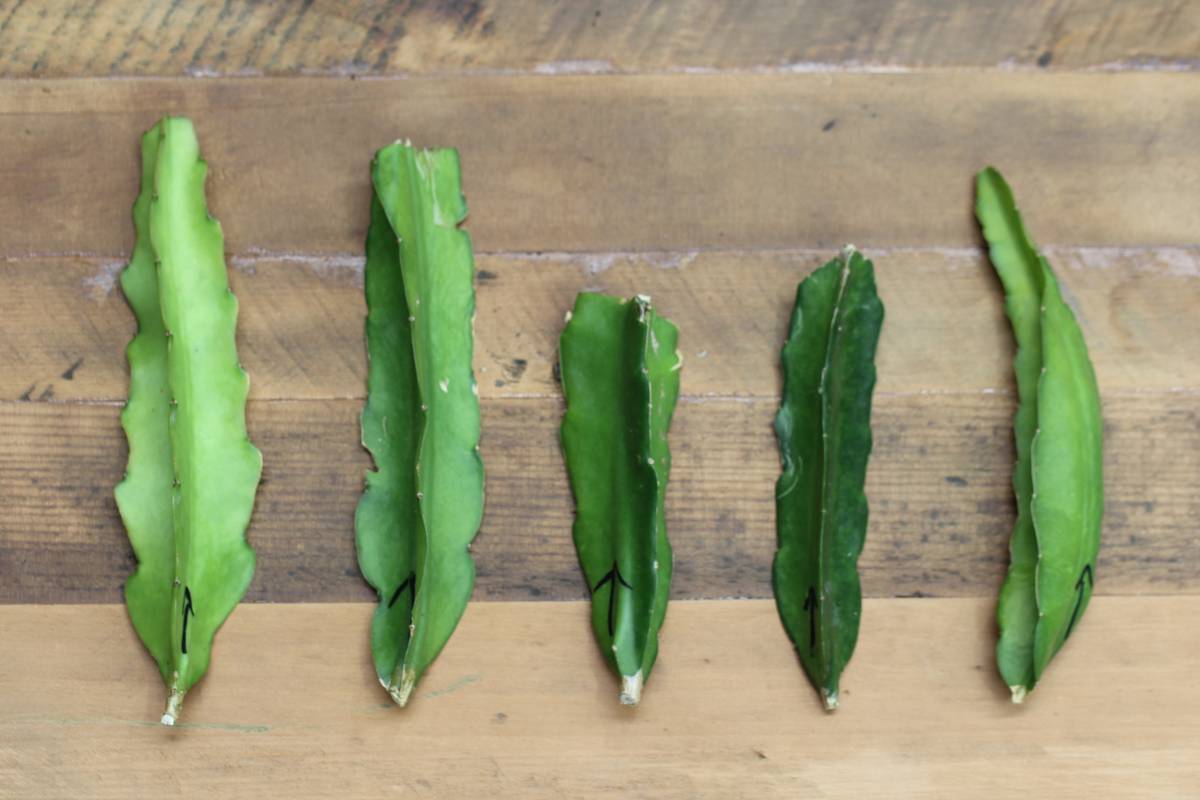 Product code: Z-DRA-04
Best Months to Plant
Quick Planting Guide
*Notes: Requires very free-draining soil and a strong trellis or support. Do not overwater.
Shipping
We deliver Australia wide.
All orders are dispatched from our warehouse in Knoxfield, Victoria, Australia.
We do not deliver overseas.
Shipping cost is calculated using all the items in your shopping cart and your delivery postcode. The table below outlines the delivery options and costs.
Order dispatch time is currently 1-3 business days plus delivery time.
Please note we are unable to guarantee specific delivery dates or delivery timeframes, all delivery times are estimates only.
Order contains:
Delivery options:
Delivery cost per order
VIC, NSW, ACT, QLD, TAS, SA, NT
WA
Small seed packets ONLY -
Economy Delivery
$3.00 or FREE on orders over $25
$5
Parcel Delivery
Capped rate of $8.99
Express Delivery
$15.00

BULK seed, garden supplies, tools, or accessories -

Parcel Delivery

Capped rate of $8.99

Express Delivery

Starting from $15.00
(Calculated by weight)
Live Plants -
Live plants
Capped rate of $10.00
*All orders sent to Western Australia are subject to mandatory inspection and fees by Quarantine WA. These fees are included in all shipping costs above.
**We will replace all orders that are lost or damaged in transit however we will not replace or refund orders simply because they were delivered later than estimated. Full details here.
Ratings & Reviews
Be The First To Review This Product!
Help other The Seed Collection Pty Ltd users shop smarter by writing reviews for products you have purchased.