Seedling 5 Pack- Lavender Forte Deep Purple
Lavandula stoechas
---
Seedlings, 5 pack (NOT FOR TAS, WA)
---
---
Idea for borders, edging and mass planting
Ready to plant seedlings
Pack includes 5 x Lavender Forte Deep Purple
Description
Seedling 5 Pack- Lavender Forte Deep Purple
Lavandula stoechas
Idea for borders, edging and mass planting
Pack includes 5 x Lavender Forte Deep Purple
With upright spikes of fragrant flowers from mid spring to late summer, lavender looks best when planted in drifts, edging a garden bed or as a low hedge. Plant lavender close to paths or seating areas where its scent can be enjoyed as you brush past, or mass plant for a stunning effect. Lavender is also suitable for pots and containers; plant seedlings in individual pots or space all five evenly around a half wine barrel-sized container. The flowers attract bees and beneficial insects.
Seedlings are each approximately 5-8cm tall (excluding soil), grown in a fully biodegradable wrapper so they're ready to plant directly into a pot or the garden. Seedlings are packaged in a 100% recycled blister pack to protect the plants during shipping. Planting instructions included.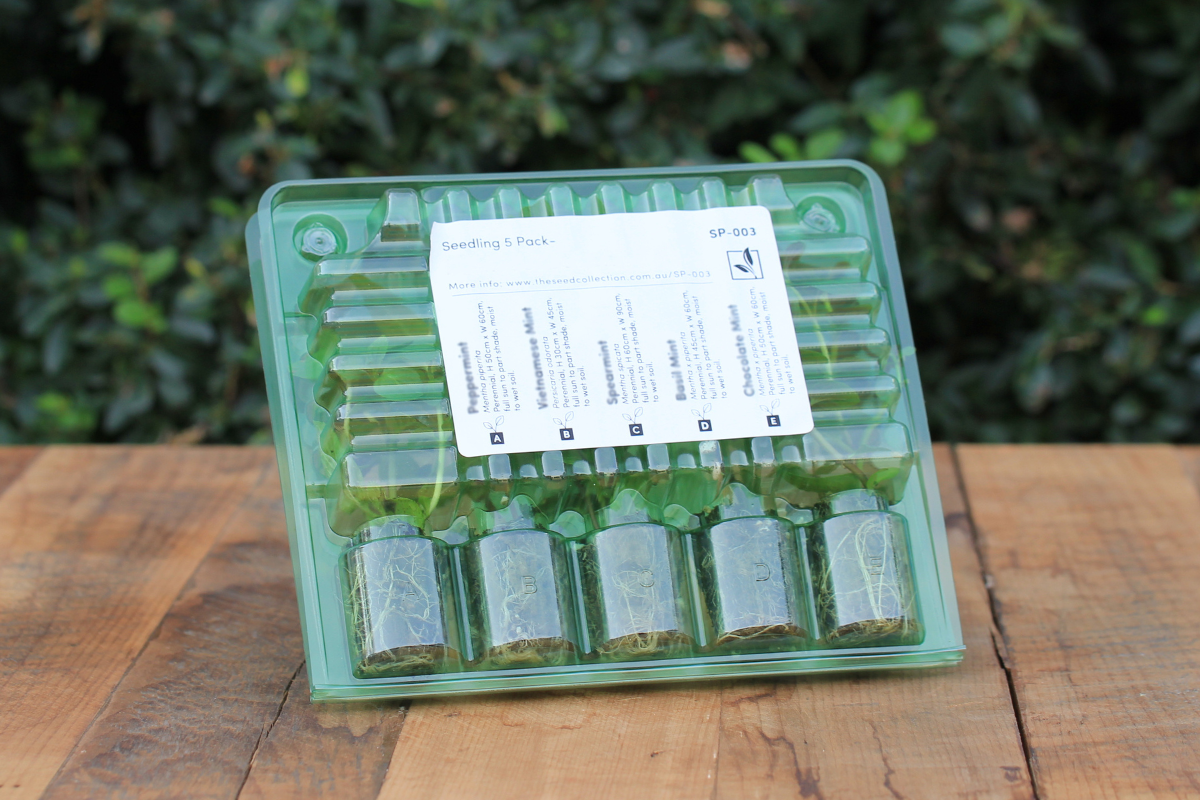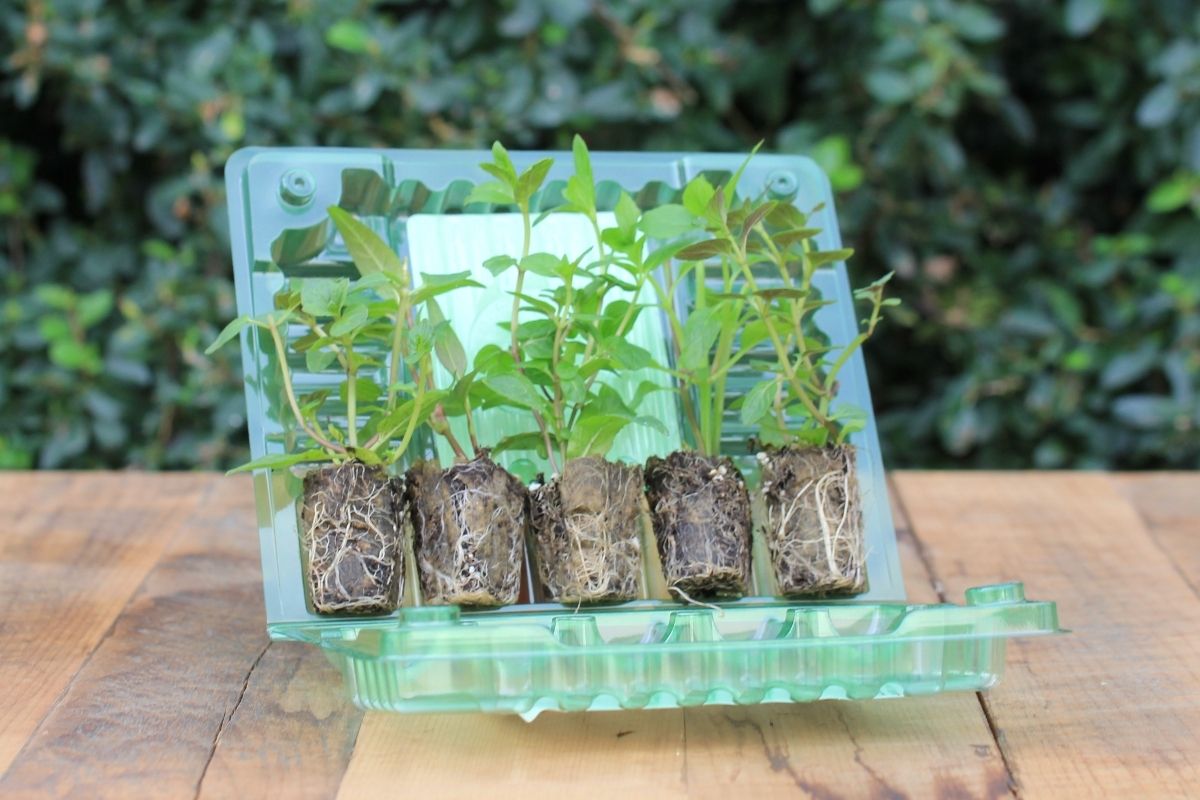 Product code: SP-006
When to Plant
Suitable to plant through May in frost-free areas.
Contains
5 x Lavender- Forte Deep Purple (seedling) (Lavandula stoechas)

A perennial shrub with grey-green fragrant foliage and a compact growth habit. Masses of large, vivid purple flower spikes with prominent 'butterfly wings' above the flowers bloom from mid-spring through to autumn. Suitable for containers, garden beds, borders, edging and low hedges, and especially effective when mass planted. Attracts beneficial insects and bees. Drought tolerant once established.

Life Cycle: Hardy Perennial
Plant Height: 30-60cm
Position: Full sun, well drained soil
How To Grow
Seedlings are packaged in a 100% recycled blister pack to protect them during shipping. The blister packs can be recycled in most household recycling bins.
On Delivery:
Carefully open the packaging and inspect your seedlings. Gently remove any damaged leaves. Some leaves may have yellowed in transit; there is no need to remove these as they will recover once the seedlings are planted.
If seedlings are very dry, fill a small container with water and submerge the rootball for a few minutes, then allow to drain. Do not leave seedlings submerged in water.
Plant seedlings within 24 hours of receiving them. Seedlings will dry out quickly if they are not planted soon after arrival. If the weather is not suitable for planting, plant seedlings in a pot and place it in a protected position until conditions are suitable for planting outside.
Planting:
Plant seedlings in the garden or a pot so they will receive the sunlight and soil conditions described on the pack.
To do this:
Fill a pot with good quality potting mix or dig over and enrich garden soil.
Make a hole larger than the size fo the seedling's rootball.
Place the entire rootball in the hole, so it is level with the top of the soil; there is no need to remove the biodegradable wrapper around the rootball.
Cover with soil and water in well.
Protect seedlings from extreme heat or cold, slugs, snails and other pests until they are established.
Shipping
We deliver Australia wide.
All orders are dispatched from our warehouse in Knoxfield, Victoria, Australia.
We do not deliver overseas.
Shipping cost is calculated using all the items in your shopping cart and your delivery postcode. The table below outlines the delivery options and costs.
Order dispatch time is currently 1-3 business days plus delivery time.
Please note we are unable to guarantee specific delivery dates, the delivery timeframes below are estimates only.
Order contains:
Delivery options:
Delivery cost per order
VIC, NSW, ACT, QLD, TAS, SA, NT
WA
Small seed packets ONLY -
Economy Delivery
$2.50 or FREE on orders over $20
$5
Parcel Delivery
Capped rate of $6.99
Express Delivery
$15.00

BULK seed, garden supplies, tools, or accessories -

Parcel Delivery

Capped rate of $6.99

Express Delivery

Starting from $15.00
(Calculated by weight)
Live Plants -
Live plants
Capped rate of $10.00
*All orders sent to Western Australia are subject to mandatory inspection and fees by Quarantine WA. These fees are included in all shipping costs above.
**We will replace all orders that are lost or damaged in transit however we will not replace or refund orders simply because they were delivered later than estimated. Full details here.
Ratings & Reviews
Be The First To Review This Product!
Help other The Seed Collection Pty Ltd users shop smarter by writing reviews for products you have purchased.