Strawberry- Melba (Runner)
Fragaria x ananassa
---
Runner, Supplied loose (NOT TO TAS, WA)
---
---
Very productive
Juicy, sweet fruit
Suited to all climates
Description
Strawberry- Melba (Runner)
Fragaria x ananassa
An Australian bred variety with white flowers and large, conical fruit. 'Red Gauntlet' fruit is juicy and sweet and performs well in growing trials and blind taste tests. A mostly runner-free variety that puts its energy into fruit production.
Suitable for all climate zones. A day neutral variety that fruits throughout the warmer months in temperatures of 20-30°C.

A strawberry runner is an offshoot (also called a 'stolon') from a parent plant that establishes and forms a new plant. The runner is then dug up and sold bare-rooted (without soil or leaves). Runners will give you a head start when establishing a strawberry patch, meaning that you can begin harvesting fruit earlier than if growing plants by seed.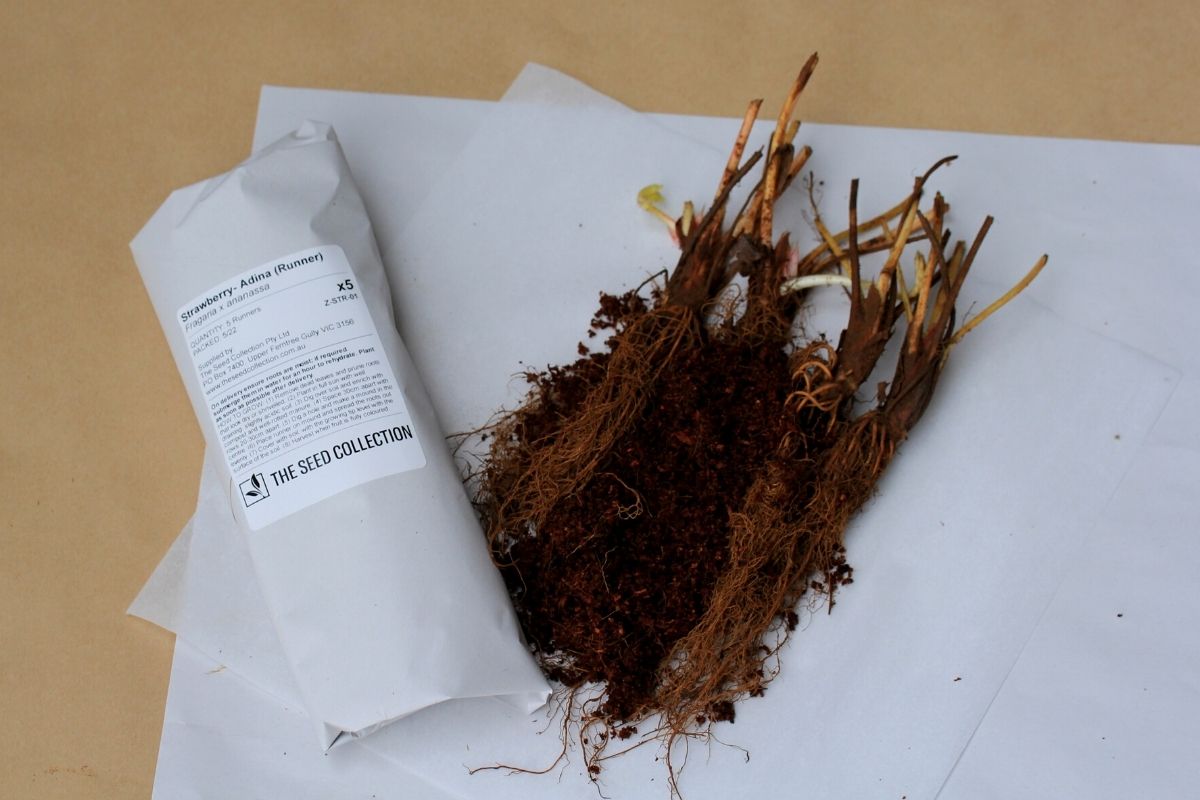 Product code: Z-STR-02
Quick Planting Guide
| | |
| --- | --- |
| Season | Autumn and winter |
| Hardiness / Life Cycle | Frost Hardy Perennial |
| Row Spacing | 25cm |
| Plant Spacing | 30cm |
| Plant Height | 20cm |
| Position | Full sun, very well drained soil |
How To Grow
Plant as soon as possible after delivery. Runners can be stored for a few days in a perforated plastic bag in the fridge if necessary.
To prepare runners for planting: Remove dead leaves and stalks and prune any roots that look dry or shrivelled.
Choose a location in full sun with well draining soil.
Dig over soil and enrich with compost and well-rotted manure. Strawberries prefer a rich soil with plenty of nutrients and a slightly acidic soil (a pH of 5.4-6.5 is ideal).
Space runners 30cm apart, with rows 20-30cm apart.
Dig a 20cm deep hole and make a mound in the centre.
Place the runner on the mound and spread the roots out evenly.
Cover with soil, making sure the growing tip at the centre of the runner is level with the surface of the soil.
Water in well.
Protect runners from slugs and snails and fruit from birds, possums and rodents.
Harvest strawberries regularly to encourage more fruit; harvest fruit by cutting it from the stem when it is fully coloured but still firm.
Runners can also be grown in pots and hanging baskets. Use a good quality potting mix enriched with compost or with a slow-release fertiliser added. Allow one runner per 30cm diameter pot. Container-grown strawberries can benefit from regular application of liquid fertiliser at the recommended rate.
Shipping
We deliver Australia wide.
All orders are dispatched from our warehouse in Knoxfield, Victoria, Australia.
We do not deliver overseas.
Shipping cost is calculated using all the items in your shopping cart and your delivery postcode. The table below outlines the delivery options and costs.
Order dispatch time is currently 1-3 business days plus delivery time.
Please note we are unable to guarantee specific delivery dates, the delivery timeframes below are estimates only.
Order contains:
Delivery options:
Delivery cost per order
VIC, NSW, ACT, QLD, TAS, SA, NT
WA
Small seed packets ONLY -
Economy Delivery
$2.50 or FREE on orders over $20
$5
Parcel Delivery
Capped rate of $6.99
Express Delivery
$15.00

BULK seed, garden supplies, tools, or accessories -

Parcel Delivery

Capped rate of $6.99

Express Delivery

Starting from $15.00
(Calculated by weight)
Live Plants -
Live plants
Capped rate of $10.00
*All orders sent to Western Australia are subject to mandatory inspection and fees by Quarantine WA. These fees are included in all shipping costs above.
**We will replace all orders that are lost or damaged in transit however we will not replace or refund orders simply because they were delivered later than estimated. Full details here.
Ratings & Reviews
Be The First To Review This Product!
Help other The Seed Collection Pty Ltd users shop smarter by writing reviews for products you have purchased.